So, you are meeting all these cool new people on one of the country's premier golf dating sites but you are not that experienced a golfer yourself? And now, all these new people are inviting you for a day at the local course and you are nervous because you actually know very little about the game?
No problem. We've got you covered. Today, we will give you a few tips that will help you survive your first true golf date with that cool new golfer you met on your favorite site.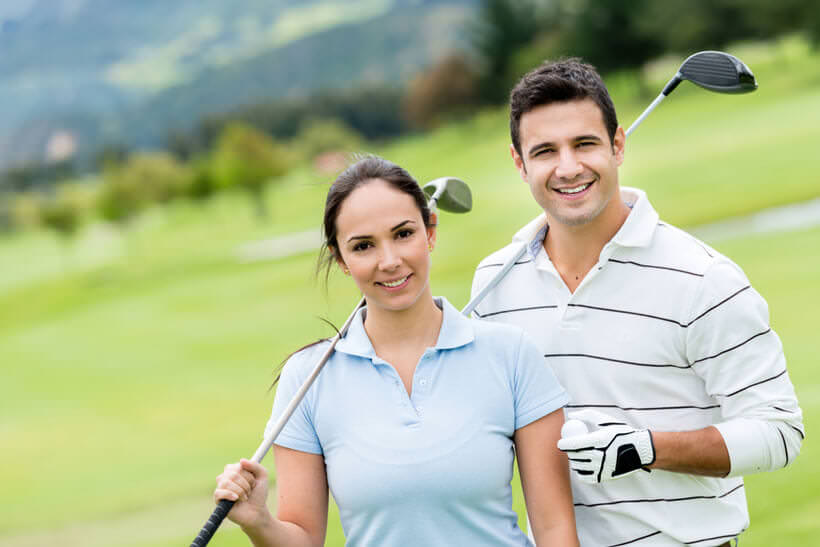 One of the first things to do is learn the terminology. Like all sports, golf also has its own dictionary and it would be a good idea to familiarize yourself with the most important terms. PGA has a comprehensive glossary that will provide you with all of the basic terms, as well as the more advanced ones.
Once you have the terminology under your belt, it is time to start thinking about the equipment, i.e. the clubs and the balls. If you are absolutely certain that this will not be the only golf date you go on in your life, you might consider buying your own set of clubs. Even if you do not continue dating golfers, you can always continue playing the game on your own. It is a great game and there are good reasons why so many people play it.
Of course, you will not be spending thousands of dollars on high-end clubs. At least not at first. If you are more into golfers than the actual game, you can always ask some of your friends to lend you their clubs. Also, don't forget to pack a lot of balls. A lot.
The next thing to consider is your outfit. After all, it is a golf date, with the emphasis on the word date. Some golf clubs, unfortunately, have a dress code and you should always inquire to make sure you can get on the course. The good news is that there are perfectly attractive outfits that will conform to even the strictest dress codes. This is especially true for lady golfers who will always look like a million dollars in a white skirt and a nice sweater.
The golf course can be a fantastic place to flaunt your style. Always remember that.
When it comes to playing the actual game of golf, you have two choices. The first choice is to hit the course before your date to make sure you are not a completely hopeless case. You can do this at your local driving range where you can practice your swings. Maybe you should even consider hiring an instructor who can show you the ropes.
The other choice is to dive in without any knowledge of how to play the game. This can make for a particularly interesting and even sexy day on the golf course since your date will have to give you an impromptu lesson. This is a particularly sexy proposition for first-time female golfers because the lessons can get quite intimate as your date guides your hips and your body into proper swings.
If you are a guy who is getting his first golf date with an experienced lady (or another guy, why not), you might also consider learning a thing or two about the club where you will be playing. Find out whether they have a restaurant and whether the club practices tipping. You do not wish to look like a tightwad on your date.
We have another piece of advice for you, although it is optional. This has to do with the perfect icebreaker for a golf date. Namely, all golfers have their all-time favorite player and it might be a good idea to brush up on this. For instance, this is a great list of the best golfers of all time and a great place to start your research.
In short – dress up, learn the basic swing, and be ready to have the time of your life.