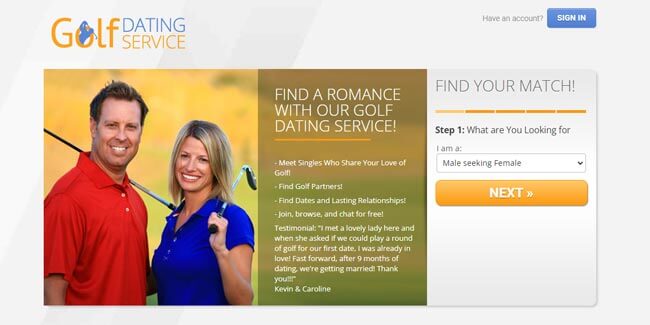 We've all been there, looking at the empty message box and trying to come up with a perfect first message. It has to be not too long or too short. It has to be unique, funny, and appealing all at the same time. So, you pour all your effort into this mission only to be ignored. And that hurts. Things have not been always like this. We, humans, have developed a series of crucial non-verbal cues over centuries and centuries of communication and courtship. These cues are incredibly important and they can save you from a lot of bad things. A single smile or a look can be significant we need to try to introduce a similar thing in the online world of dating.
One of the biggest golf dating sites, Golf Dating Service introduced this feature some time ago. So, how does it work, why it's important, and is it free? As we already talked about in our Golf Dating Service review, when you join this site, you'll have two options: to send someone a message or a flirt. If you decide to flirt with someone, they will receive a notification straight in their inbox. They can either send a flirt or a message back or simply ignore the whole thing. As you can notice two out of those three outcomes are positive. Plus, we all know just how good compliments feel.
Even if the person doesn't reply you should know that you've just probably made their day. However, when they see that you've flirted with them, that will put them in a good mood and make them more likely to reply. The flirt feature feels like a buffer between liking someone's profile and sending them a message. It's a harmless and risk-free move that can help you find out if the other person wants to take things to the next level. More importantly, it can save you a lot of time, effort, and emotional pain.
Finally, you should know that you can join Golf Dating Service for free and, more importantly, you can use the flirts for free. There are no limitations or anything like that. There is a premium subscription offering even more cool features but it's not required to send or receive flirts. So, what are you waiting for, get out there and make things happen!