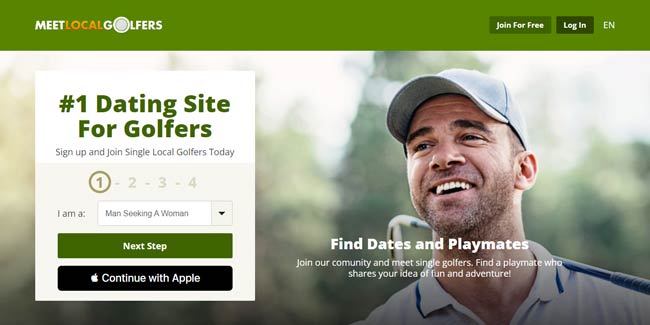 It's true what they say, your profile picture is the most important part of your dating profile. Some apps work in such a way that the picture is the only thing the other user sees at first. And if they don't like the picture they're going to swipe left and leave you wondering why you can't connect with anyone. You can have a perfect bio and everything else but a bad profile picture and that can cause you a lot of trouble. It sounds strange that what's asked of you is to pick this one perfect picture. It needs to be charming, appealing, and positive. All of this seems like a rather difficult task, but don't worry Golf Dating Expert is here to help you.
The first thing you should do is stay away from mainstream dating platforms. You will have much better chances of success if you join some of the sites specifically created and designed with Golf dating in mind. You will be among like-minded people and it will be easier to make a connection and start conversations. If you're wondering what some of those sites are, you can always check out our list of Best Golf Dating Sites. Most of them are free to join, including the biggest one Meet Local Golfers. Secondly, you should answer these two questions: what kind of a relationship are you looking for and what kind of an image are you trying to project to the world?
Do not take the answers in their literal meaning but as something to keep in the back of your head. For example, if you're looking for a casual relationship you should not appear half-nude pointing at a bed, and so forth. These are more guidelines that will help you during the selection process. So, it's time to really get to the brass tacks. You should not use selfies as your profile pictures. The images are just too grainy, the perspective and colors are off and they give off bad vibes. Use the main camera of your phone to take photos but without flash. Flash messes up the color balance and makes you look older and that's something we're trying to avoid. The photo needs to feel as natural as possible. This is why you should take it using natural lighting, during the day.

Also, do not forget to smile. It doesn't have to be a big smile but it has to be some kind of a smile. It adds so much atmosphere and positivity to the photo that you simply have to use it. All of this goes all the way back to the time when we met people face-to-face. Non-verbal cues like smiles were incredibly important back then and they still are today. This is why we must use this life hack. Moving on, you should not use filters or photoshop. And the photo should be recent. The last thing you would want is to meet someone who doesn't look anything like their profile photo. So, you don't want that for someone else.
Do not be afraid to shake things up a bit from time to time and upload different kinds of photos. You during a walk, you in the park, you in the comfort of your home. If you have any pets you can also include them. That will make the connection with other pet owners stronger but the connection with people who don't want pets or are allergic might not look at it too kindly. Also avoid photos with other people, especially members of the opposite sex. People are looking at your profile wanting to find out more about you, not them!